Venue and Travel - Accommodation
---
Welcome to Romania!
Romania is situated in the South-Eastern part of Central Europe and shares borders with Hungary to the North-West, Serbia to the South-West, Bulgaria to the South, the Black Sea to the South-East, Ukraine to the East and North and the Republic of Moldova to the East.
BUCHAREST, ROMANIA - Europe
Organizers: The Faculty of Mathematics and Computer Science & Faculty of Psychology and Education Sciences , University of Bucharest

Location of Conference: BUCHAREST, The Faculty of Mathematics and Computer Science, UNIVERSITY OF BUCHAREST, ROMANIA

Address: Str. Academiei nr. 14, sector 1, C.P. 010014,
Tel: (4-021) 314 2863, Fax: (4-021) 315 6990 BUCHAREST, ROMÂNIA

BUCHAREST - ROMANIA (Physical Map)

General Information, Location: Southern Romania, County: BUCHAREST

Tournament ICVL and CNIV: Future vs. Vision


BUCHAREST, ROMANIA - Europe
BUCHAREST, Romania's largest city and capital,is today a bustling metropolis (which in the 1900s earned its nickname of "Little Paris") .
Bucharest - ROMANIA (Physical Map) - General Information, Location: Central Romania, County: Bucharest (3D Map of Bucharest - http://www.harta3d.ro/)

The University of Bucharest is an influential player within the community of Romanian higher education and research. It plays its part in a global intellectual community working towards protecting and reinforcing academic values, as well as towards promoting diversity and international collaboration. Being one of the oldest institutions of higher education in Romania, it bears both the responsibility and the obligation to be a pioneer and a model. In its 150 years of existence, the University of Bucharest has gained solid national and international prestige, being the first Romanian academic institution in the top 600 universities in the world. The main objective of the University of Bucharest is offering higher-quality educational services and research activities, maintaining competitive standards at an international level, and manifesting a continuous concerning for ensuring quality,contributing to the development of the Romanian Society and its European integration. Mission of University of Bucharest
The University of Bucharest offers numerous study programs, from BA to PhD, as well as lifelong learning programs. At the same time, it constantly collaborates with more than 100 prestigious universities from 40 different countries. All programs are accredited or authorized. The degrees granted by the University of Bucharest are recognized in most countries of the world. The University of Bucharest is a comprehensive university, oriented towards natural sciences, social sciences and humanities. The number of faculties is almost equal on each of these domains.
The strategy of the University of Bucharest emphasizes international co-operation as an essential part of the University's core activities.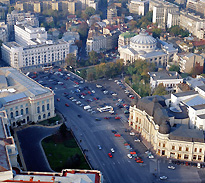 Revolution Square (Piata Revolutiei)-"The square gained worldwide notoriety when TV stations around the globe broadcasted Nicolae Ceausescu's final moments in power on December 21, 1989. It was here, at the balcony of the former Communist Party Headquarters, that Ceausescu stared in disbelief as the people gathered in the square below turned on him. He fled the angry crowd in his white helicopter, only to be captured outside of the city a few hours later. The square's importance stretches back long before the dramatic events of the 1989 Revolution. On the far side of the square stands the former Royal Palace, now home to the National Art Museum, the stunning Romanian Athenaeum and the historic Athenee Palace Hotel. At the south end of the square, you can visit the small, but beautiful, Kretzulescu Church." Source: http://www.romaniatourism.com
---
By plane to Bucharest
0) By plane to Bucharest. The international airport is Henri Coanda Otopeni International Airport, in Bucharest. It offers daily connections with every major city of Europe ( http://www.otp-airport.ro/)
1) From airport to Bucharest. There are two ways to reach those from the airport:
a) Firstly by bus EXPRES 783 (the station is in front of the arrivals terminal) till Piata Universitatii or Piata Victoriei station.
b) By cabs, Fly Taxi, the official airport taxi carrier. The duration is between 30 and 50 minutes (depending on traffic).
Have a good travel!
TRANSPORTATION By TRAIN
For the list of international trains with service to/from Romania please visit:
www.RomaniaTourism.com/Transportation.html#ByTrain
Getting to Romania by Train
Traveling by train from other European countries to Romania takes from 6 hours (Budapest to Timisoara) to about 46 hours (London to Bucharest). Most train tickets allow several stopovers en route so train travel can be an affordable and relaxing way to include Romania in a European trip.
Hotels in BUCHAREST

RECOMMENDATION:
- Athenee Palace Hilton Hotel (*****), Str. Episcopiei nr. 1-3; Bucharest
- Ambasador Hotel (***), Bd. Gral. Gheorghe Magheru nr. 8-10; Bucharest
- Central Hotel (***), Str. Brezoianu nr. 13; Bucharest
OTHERS:
- CISMIGIU Hotel, 4 stars - Bd. Regina Elisabeta nr. 38, Bucharest
- OPERA Hotel , 3 stars - Str. Brezoianu nr. 37, Bucharest
- VENETZIA Hotel, 3 stars - Piata Mihail Kogalniceanu, Bucharest
---
About CNIV and ICVL: Strong scientific events create and promote values
CNIV and ICVL are scientific events promoting innovative technologies and methodologies in education, research and lifelong improvement, both in the pre-university and university milieu, and in the economic sector, too. Structured and organized by European principles and International standards, the two projects promote implementation of modern ideas in the initial education and continuous training, encourage and promote teamwork and collaborative activities, scientific methods and experiments, creative thinking and intuition, arguing, and proving.