Venue and Travel - Accommodation
---
CLUJ-NAPOCA, ROMANIA - Europe
Location of Conference: "Babeş-Bolyai" University of Cluj-Napoca, Address: 1 Mihail Kogalniceanu Street, 400084 Cluj-Napoca, ROMÂNIA


Cluj-Napoca - ROMANIA (Physical Map) - General Information
Location: Central Romania, County: Cluj

"Babeş-Bolyai University displays a number of particular features which make it stand out among the other European universities. It is the university with the longest academic history in Romania, a history which begins with the founding of the Jesuit College in 1581 and continues with the university designs of Maria Theresa and of Joseph II, with the Hungarian university established at the time of Franz Joseph, with the Romanian university created during the reign of Ferdinand I of Romania, and then with the Babeş and the Bolyai universities established here after the Second World War. Babeş-Bolyai University is a multicultural institution, operating in keeping with the European practices of multiculturalism, and it guarantees academic freedom and decisional autonomy to the language-based programs, faculties, and departments, in a manner consistent with the current EU regulations. Prof. Andrei MARGA, PhD, Rector
This western city in the region of Transylvania traces its origins back to the Dacian settlement of Napuca in the 2-nd century A.D. After the Roman take-over of Dacia, it was renamed Napoca and in 124 A.D., received the rank of "municipium". The city quickly advanced socially and economically and during Marcus Aurelius' reign Napoca received the title "colonia", the highest possible urban status in the Roman Empire.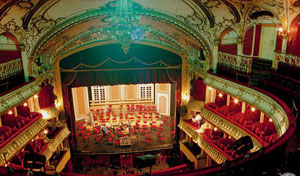 "The name Cluj comes from Castrum Clus, first used in the 12-th century as the name of the citadel surrounding the city. Clus means "closed" in Latin and refers to the hills that surround the city. German merchants, who arrived here in the 12th century, rebuilt the medieval earthen walls of Clus in stone after the Tartar invasion of 1241. Known as Klausenburg to the Germans* and Kolosvar to the Hungarians, Cluj became Cluj Napoca in the 1970s, when the communist regime added the name of the old Roman settlement to emphasize its Daco-Roman origin." Source: http://www.romaniatourism.com
TRANSPORTATION By AIR
Austrian Airlines - www.aua.com
Direct flights from/to: Vienna
CLUJ International Airport
Address: Traian Vuia, Nr. 149, 400397 Cluj-Napoca, Romania
Tel +40264416702 +40264307500 | E-mail: aercj[at]codec.ro
www.airportcluj.ro/
Cluj International Airport is located on the European road E 576, 10km away from the commercial center of the city of Cluj-Napoca and 12 km away from the train station.
Taxis are also available outside of the arrivals hall. The airport is located 2.5 miles from the city centre. Taxis are the easiest way to get around. Bus number # 8 runs from the airport to Piata Mihai Viteazul in the centre of the city.
Airlines with service to Cluj-Napoca:
Cimber Air – www.cimberair.dk
Malev – www.malev.hu
Tarom – www.tarom.ro
Wizz Air – www.wizzair.com
TRANSPORTATION By TRAIN
Cluj Napoca - main train station (Gara Cluj Napoca)
Address: Str. Garii 1-3
Tel: (264) 592.952 or 952
There are daily trains from/to Budapest (journey time - 8 hours). Trains to other western European cities run via Budapest.

For the list of international trains with service to/from Romania please visit:
www.RomaniaTourism.com/Transportation.html#ByTrain
Getting to Romania by Train
Traveling by train from other European countries to Romania takes from 6 hours (Budapest to Timisoara) to about 46 hours (London to Bucharest). Most train tickets allow several stopovers en route so train travel can be an affordable and relaxing way to include Romania in a European trip.
RECOMMENDATION: (discount 10% for ICVL 2011):
- Hotel Central, Hotel Capitolina, Hotel Capitol (***)
Ref.: www.hotelcentralcluj.ro , www.hotel-capitolina.ro
OTHERS:
- Hotel Confort, Hotel Victoria Cluj, Hotel Fullton (***)
- Hotel Paradis ****
- Hotel Alexis ***
- Hotel Vest City ***